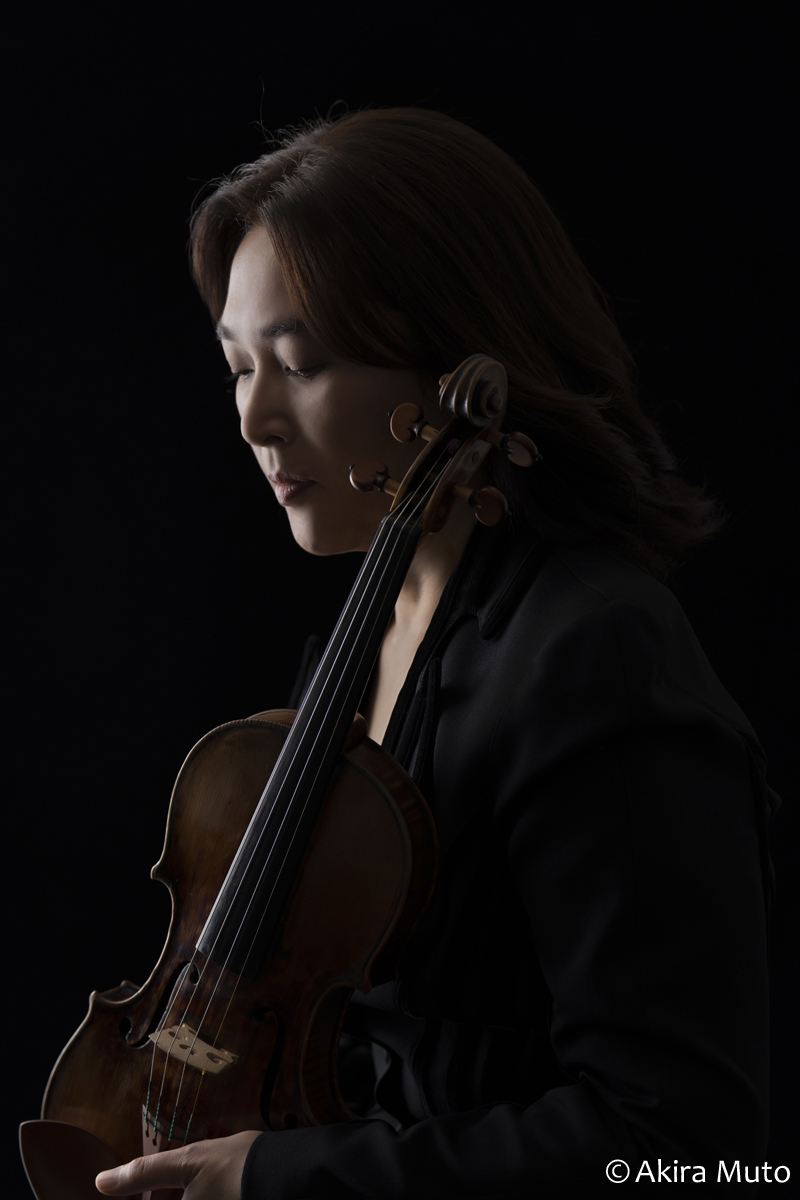 Since winning the Queen Elisabeth International Music Competition in 1993, Yayoi Toda has been active as one of Japan's leading violinists, captivating audiences with her passionate performances underpinned by her intense powers of concentration.
Toda started her violin studies at the age of four and drew attention by receiving the first prize in the 54th Music Competition of Japan in 1985. She graduated as top student from the Toho Gakuen College Music Department before leaving for Europe in 1992 for further studies at Amsterdam's Sweelinck Music Academy. She was trained by prestigious teachers such as Eto Toshiya, Herman Krebbers, Charles-André Linale and Dorothy Delay.
Toda has appeared not only with many Japanese orchestras, but also with the Chamber Orchestra of New York, Moscow Philharmonic, Prague Chamber Orchestra, Hague Residentie Orchestra, Swedish Radio Symphony Orchestra, Bonn Beethovenhalle Orchestra, North Netherlands Philharmonic Orchestra, Academy of St. Martin-in-the-Fields, London Philharmonic Orchestra, Bergamo Chamber Orchestra and Deutsche Kammerphilharmonie Bremen to name but a few. She has also performed to rave reviews with artists including Seiji Ozawa, Yuri Simonov, Shlomo Mintz, Jean-Jacques Kantorow, Alexander Schneider, Stanislav Bunin, Jean Fournet, Gary Bertini, Martha Argerich, Frank Braley, Abdel Rahman El Bacha and Gérard Caussé.
In 1994, Toda was given the 4th Idemitsu Music Award. In 1996, she received the Delay Scholarship to study for one year at the Juilliard School and won the Young Concert Artists International Audition. A year later she made her highly acclaimed New York debut and performed the Violin Concerto No. 2 (1995) by the Dutch composer Tristan Keuris (1946-1996), of which she is the dedicatee, at the Concertgebouw in Amsterdam. In 1999, she curated a concert centering around chamber music entitled "Yayoi and Friends" at Carnegie Hall.
2009 was the year for Toda to expand her career in Asia, performing chamber music concerts and collaborating with the Wuhan Symphony Orchestra in Shanghai and participating in the Jeju Festival in South Korea. The following year, after giving master classes in the Netherlands and Spain, she toured in Japan as a duet with the pianist Valery Afanassiev. As the year 2013 was the 20th anniversary since her debut, she performed concertos as soloist, duet concerts and solo recitals in Tokyo, Osaka, Kobe and Fukui. In 2017, she was invited by Akiko Suwanai's International Music Festival NIPPON and in 2018 she gave a highly acclaimed duet performance with Ryusuke Numajiri at his Omi Spring Classical Festival of the Biwako Hall. A regular participant of the Spring Festival in Tokyo, she also toured major churches in Boston and its suburbs in August 2019 as a duet with Tomoko Miyamoto, Professor Emeritus of Ferris University,.who then played a famous C. B. Fisk organ.
Toda has also been invited as a jury member from music competitions inside and outside Japan including the violin portion of the Queen Elisabeth International Music Competition 2005. She is currently a professor at the College of Music of the Ferris University and an adjunct lecturer at the Toho Gakuen College Music Department.
Toda has recorded unaccompanied solo works such as "J.S. Bach: Sonatas & Partitas for Solo Violin BWV1001-1006" (2002) and "20th Century Solo Violin Works". She has also released CDs including "RÊVE D'ENFANT", an album with her favorite short pieces, and "Franck: Violin Sonata, Schumann: Violin Sonata No.2" with the pianist Abdel Rahman El Bacha. As her newest release, she recorded all of J.S. Bach's sonatas and partitas again in April 2022 after twenty years.
Toda plays a 1728 Guarneri 'del Gesù' violin owned by Chaconne (Cannon).
Official Website: https://yayoi-toda.com/